This blog is called Mother of Rescues and that's exactly who I am; a mother of two precious rescues. Rescuing dogs and raising them with love and positive reinforcement is my mission in life. In that I am absolutely certain. My two rescues have taught me everything I know about force-free dog training, canine body language, resocialization, patience and overcoming challenges. Without them, this blog would not exist.
But what about purebred dogs? My household currently holds two purebred Irish Setters, in addition to my two rescues. I sometimes get asked what is my opinion on people buying dogs. Am I against it? Our second Setter (Ursha) has joined the family just a month ago and some were surprised that she isn't a rescue. I've had this topic on my mind for a while, so today I wanted to share my thoughts on the role of purebred dogs in a household that frequently opens its doors to rescue dogs!
The importance of a happy childhood
I want to start with the most important topic that easily defines all living beings: childhood. Our childhood has a big impact on how we grow up, how we act in relationships, the choices we make in our lives. It's same with our dogs. Their early childhoods determine them a lot! My two rescues, Bailey and Chilly, both had pretty shitty childhoods. One was crammed into a box with 4 other puppies and left in the woods to die. The other had to survive on the streets of Bosnia. Our precious angel Lady was owned by hunters until they disposed of her and she nearly starved to death.
Welcoming these dogs into our home and hearts has been the most rewarding experience but it has also been challenging at times. Creating a stable environment for them is my top priority. This is where our purebred dogs play a big role - especially Ruby.
She's been in the family for 10 years, longer than any of the other dogs. We got her from the Trawricka breeders and she has always shown incredible mental stability. The past 10 years have been full of changes and she adapted to all of them without problems. Our home is always welcoming new animals and she has been so accepting of all of them. She has welcomed without a fuss a giant pet rabbit, Bailey, a guinea pig, another rabbit, a bird, Lady, three chickens, Chilly, another guinea pig and Ursha. That's without even mentioning several friends, boyfriends, pet friends and other people or animals who have briefly crossed our home in different periods of life. Ruby is a total champ.
Her stability has always influenced our rescues. When we bring a rescue into the home, Ruby is the first one to meet them. I believe she immediately makes them feel welcome.
Lady and Bailey, for example, had some anxiety around each other in their first weeks together. My sister and I needed to work on their relationship. But Lady and Ruby instantly became friends, because Ruby is so relaxed and couldn't care less who we bring into the home. She accepts everyone!
Buying another Irish Setter was a no-brainer for my mom and so Ursha from IRWS Kennel Of The Ronnerfields has joined the family a month ago! It's safe to say that she has had the best childhood in the world and watching her first 10 weeks of life over social media has been an absolute blessing.
Training vs. Resocialization
Watching Ursha grow is sometimes a strange experience for me. She's so normal! She's a perfectly normal jolly little puppy who would happily bite your hair, nose, arms, legs and shoes if you let her. (She's a little teething shark!). I remember Bailey at her age; she was a tiny ball of anxiety, showing so many phobias and reacting to everything with extreme fear. I didn't even know where to start fixing her. Chilly and Lady came to us at later points in life, which sometimes left us wondering what horrors must have happened to them when they flinched in completely normal situations. After spending 5 years resocializing these precious pups and also the loss that we have experienced when Lady passed away in February … it feels like a breath of fresh air, raising Ursha. There is no heaviness or concern surrounding it. My mom gets to train her as a normal puppy, one that has always been happy and loved. There is no damage there that we would have to fix. She's absolutely perfect. I'm emphasizing this so much precisely because we don't intend to stop rescuing dogs - ever. They are our lifestyle now. Ursha already has two rescues in the same household and over the course of her life she will meet and love many more. It's safe to say Ursha's stability and jolly character will be a great asset in the next decade of our life.
Diversity in Friendship
It seems that in recent years it has became important again where somebody is coming from, what is their background and what history they're bringing with them. My dogs have taught me so many lessons on acceptance and diversity. I look at them bonding together and at the end of the day it doesn't matter where they come from. As a complete coincidence, all of our dogs are from a different country. Ruby is from Belgium, Bailey from Slovenia (where we live), Lady was from Croatia, Chilly is from Bosnia and Ursha is from the Netherlands. To them, none of this matters. To them it also doesn't matter that Chilly was a dirty street dog but Ursha is a high-born princess. It doesn't matter that Bailey is reactive but Ruby doesn't even notice fireworks. They only see each other's souls.
They don't concern themselves with each other's origin and I think that is one of the most beautiful lessons they could ever teach us. Deep down, at our core, we are all one.
I am thankful for our two purebred Irish Setters. I am thankful for all our rescues. I am thankful for the balance we have in our home. I know I will eventually move out of the family home and I am not ashamed to say that I will buy a dog when that happens. But I will also foster dogs and continue to rescue them. To me, rescuing dogs is about balance - also within the soul. It's not always easy and at the end of the day you need to rely on somebody.
I can see my future as the mother of rescues and I can also see one or two purebred dogs as the anchor in that pack. I reject all criticism on this front and invite everyone who reads this article, but especially the rescue community, to approach this matter with love and understanding.
I know plenty of people who just rescue.
I know plenty of people who just buy.
I love that I get to live my life somewhere in between.
What is the structure of your canine household? Do you have rescues, purebred pups or both? Let me know in the comments, I'd love to hear from you!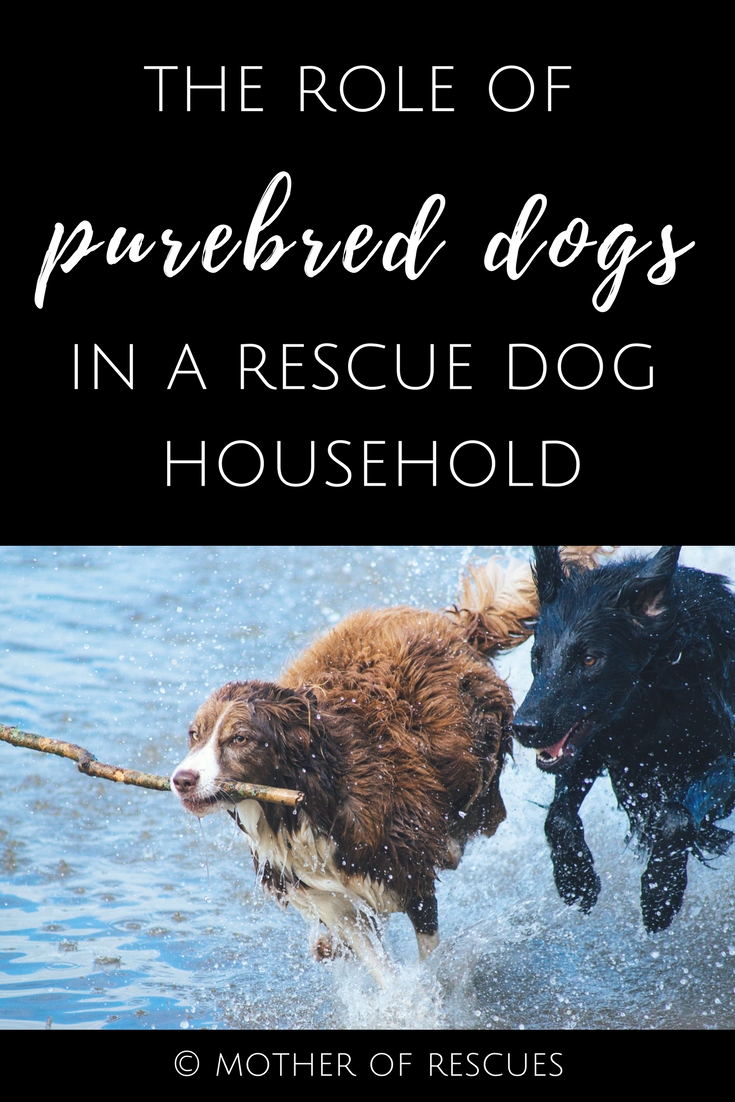 Pin this article to spread the word!