Whether or not we should be raising our dogs with love, patience and kindness should not even be a debate - and yet, things still feel blurry and debatable to many. A big part of me is tired of talking about this but an even bigger part of me knows that I have a responsibility to dogs and even their owners who may not have realized the truth just yet. I recognize that every change is a slow process and it's often not easy. I've decided to write about it because I want to share my own perspective and reflect on why I feel so deeply about this matter. But before I dive into my own personal reasons as to why I believe force-free training is the only way to help our fearful dogs, let's go over some research-based facts.
Fact #1: Positive reinforcement (force-free) training is the only training method backed by science.
Fact #2: The pack theory has been disproven by the same guy who came up with it - and many others after that.
Fact #3: Shock collars have been proven to have negative effects on dogs to the point where manufacturers now have to label them as "not to be used on aggressive dogs."
If those three facts are not enough to sway you, I have a couple of more reasons of my own. Before I get into them, let me clarify what ISN'T positive reinforcement: choke/shock/prong collars, hitting the dog, kicking the dog, pressing the dog into the ground ("alpha roll"), starving the dog, yelling at the dog, grabbing the dog by the skin on their neck, yanking the dog's leash and any other so-called training method or punishment that involves force or intimidation.
What IS force-free training: It's a method of training that focuses on building up the dog's confidence and bond with you. It focuses on setting your dog up for success. It uses tools such as food and play to teach the dogs wanted behaviors, rather than punishing unwanted ones. It builds a very clear and strong communication where the dog always knows what is expected of them and feels safe with you at all times.
I personally think that force-free training is the only way to help fearful dogs. Here's why!
1. Our dogs are already afraid most of the time - why add to it?
Fearful dogs experience fear in completely normal situations. Reactive dogs often have explosive outbursts of barking when faced with that fear (or as we call it, trigger). These dogs spend a lot of their time experiencing some form of fear. They are very different from dogs who are able to just chill in the park or sleep wherever there's room. They experience great anxiety in new environment and the places they consider safe are very few - sometimes none. It's not easy living with a dog who is always afraid. We can't control everything about our environment, so sometimes we'll be faced with loud noises, off-leash dogs or screaming kids. And our dogs will experience severe fear and will likely have an outburst. If you are a parent of a reactive dog you know that after a barking outburst our precious dogs need some time to decompress. They often stay upset even after the trigger has gone away. I see my job as a guardian of such a dog mainly to FREE them from fear, rather than to add to it. I see no point in making my dog even more afraid than she already is. When I got Bailey, she was afraid of bikes, dogs, strollers, skates, children, old ladies etc. The last thing I would want is for her to be afraid of me, too. You want your dog to feel safe next to you. You want to work towards liberating them from their fears and you can't achieve that if you are using aversive methods of training.
2. A scared dog cannot be a confident dog
One thing that most dog owners lack is the basic knowledge of canine body language. I notice this all the time and I used to be like that too. After I've studied this topic into detail, I started understanding my Bailey much better and her progress skyrocketed. Dogs display fear and discomfort in many different ways. They turn their head to the side, they lick their lips, they yawn, they pull back their ears. All of that, before any of the growling or barking even happens. A lot of the time I will see dogs that were "cured" of reactivity by shock collars or other aversive methods of training. These poor dogs are walking with their tails between their legs, their ears pulled back, constantly turning their head to the side. It's convenient for their owners, of course, because their dogs aren't barking anymore - but those dogs are still afraid! In fact, they might be afraid even more than before. Not only are they still afraid of dogs (or other triggers), they are also afraid of the discomfort that will follow if they express that fear. I urge you to look at what your dog's body language is saying and adjust your training methods accordingly. Start HERE.
3. You want to represent safety - not pain!
Most of reactive and fearful dogs have a big problem with safe spaces. They simply don't have them. It takes a lot of time for the owner to create those spaces for them, spaces where they feel absolutely safe and comfortable. Spaces where they don't get upset by triggers. It could be a crate or a bed or a room. But it takes time for them to get used to it, fully accept it and relax within. Most of them prefer small and dark spaces (den-like spaces), which are sometimes hard to come by. Safe spaces can also relate to humans and other animals. You'll notice that your fearful pooch really trusts some people; they fall asleep next to them or allow cuddles. But with other people, however many times they've seen them, they continue being wary and distant. You, as their owner, must represent a safe space for them. Force-free training is a first step into that direction. You need your dog to trust you. You need them to feel secure with you. When they are faced with a trigger, they should look to you for guidance. They won't ever do that if they connect you with something unpleasant - be it a raised voice, a jolt of pain, a physical discomfort. Create a safe space for your dog by first and foremost BEING that space!
4. Pain and fear will damage your bond
Raising someone with love and kindness manifests an incredible bond. Raising them with fear and punishment manifests a lot of confusion, repression and miscommunication - which results in keep having to use those negative tools and punishments to "keep the peace."
I'll be honest with you. As a kid, I was no stranger to physical punishment and intimidation. It was a constant thing in my childhood and if there is an equivalent to shock collars for humans, I've likely experienced it. The people in my life perceived all of that as normal (some deemed it unnecessary but "didn't want to tell someone how to raise their children"). It was never frowned upon, never talked about as problematic, never brought up as something that might have negative consequences. It has deeply affected my bond with both parents; one of whom I don't speak to anymore. I am still close with the other parent and I recognize that it wasn't her fault but in some way the relationship will always be tinted. This is what fearful upbringing does. It creates an environment where every day you are trying to AVOID being punished - you don't know what is expected of you because nobody ever told you. You are confused. Your behaviors are centered around avoiding the punishment and not around creating actual constructive behaviors. It is same with our dogs. They are smart and if you hurt them, they will do what they can to avoid being punished. That doesn't mean their behaviors will be constructive - if anything, they will just be full of anxiety and your bond with the dog will suffer severely.
Do you truly want that? Do you want a dog that is always confused and anxious? Or would you rather have a dog that feels safe next to you? A dog that you can have amazing communication with, a dog that makes you a better human, a dog that you can always rely on because they, too, trust you unconditionally?
The choice is yours.
Make it from the heart.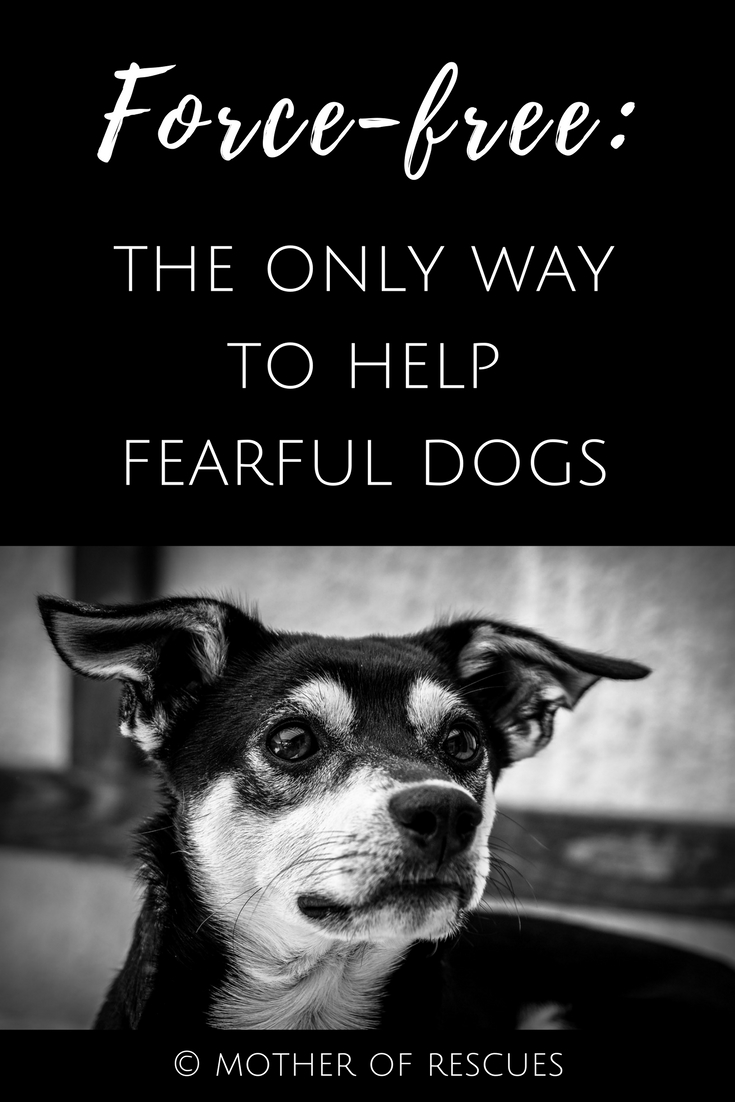 Please share this on Pinterest to raise awareness! <3